Check out these creative thought starters that make bringing color to the kitchen a piece of cake.
1. Make a statement

Create a layered monochromatic look with a sink that matches your countertop or opt for a more daring choice with a color that contrasts with the room's other materials.

2. Time to shine
Elevate a room's sophistication with unexpected combinations of metallic finishes on faucets, lights and hardware.
3. Consider the installation
Do you want your sink to blend into the design or to stand out? If you're willing to be bold, try an apron-front sink in a deep hue like the Whitehaven® in Cashmere or the top-mount Porto Fino® bar sink in Suede.
Learn how to find the right sink.
4. Play mix-master
Combine a variety of materials—flooring, countertops, backsplashes and cabinets—with a dimensional-colored sink to create depth in any color palette.
5. Get out the paint brush
Don't be afraid to update worn floors or tired cabinets with a fresh coat of paint. There are no rules. Paint your island in an accent color or try two different shades on lower and upper cabinets.
6. Make it original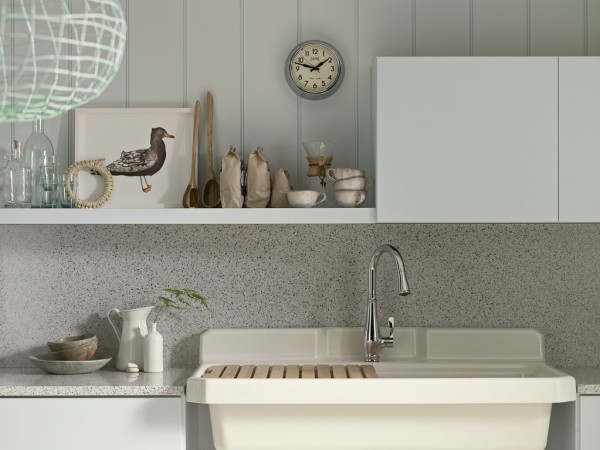 Give your room some personality with stylish but meaningful details like original artwork and reclaimed hardware.
7. Borrow from the best
Head outside for color palette inspiration. See which colors naturally complement one another in the surrounding landscape and in nearby gardens. Draw on neutrals for a touch of calm or add drama with vibrant hues.